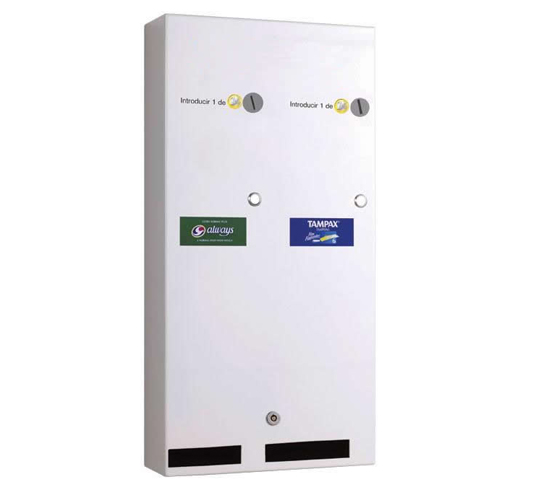 DUAL VENDING MACHINE
The Autovend has a tough and slim design, making it the perfect solution for smaller washrooms, as well as commercial washrooms. Once a user inserts the correct coins into the Autovend, the products are dispensed automatically.
The Autovend is available in a choice of brushed stainless steel, white metal or chrome – providing a design and colour choice for all washroom environments in pubs, restaurants, clubs, hotels, shopping centres, stations, educational facilities, airports and more.
The Autovend is extremely robust and is resilient to vandalism. The Autovend is a very simple dispenser which allows many formats and product sizes. It comes with a standard configuration of products such as tampons, dental hygiene and condoms amongst others. Our washroom vending machines dispense leading brand named products which customers know and trust.
Available in black, stainless steel, silver and white.
Specifications
 Dispenses brand products that customers know and trust
 Available in stainless steel and white
 Fully serviced and maintained by Hygienco personnel
 Suits many environments such as gyms, offices, restaurants and leisure venues
 Slim and robust design
 Perfect solution for busy washrooms