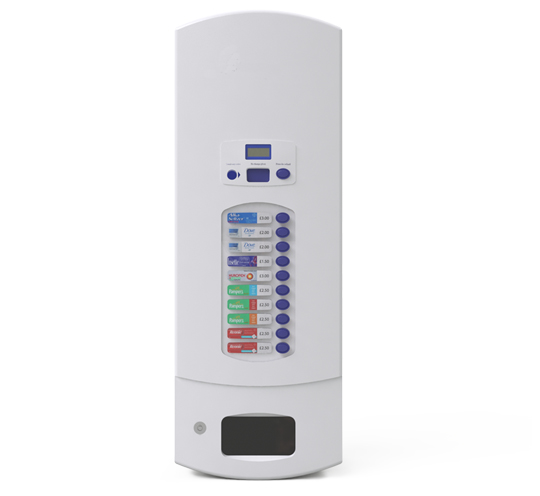 DISPENSER VENDING MACHINE
The Multivend can provide up to 9 product choices, therefore providing an ideal solution for all kinds of installations.
The Multivend is an ideal solution for customers and employees in hotels, gyms, shopping centres, airports, stations, leisure centres and more.
It can be wall-mounted and configured to dispense a wide range of leading brand name consumables, including breath fresheners, toothpaste and toothbrushes, chewing gum, tights and painkillers.
Price, coin and product changes can be reprogrammed using a simple internal keyboard. The unit has a digital display which indicates price, availability, stock levels and service requirements. Contemporary and stylish in design, the Multivend is available in a variety of ­finishes – ABS plastic, epoxy white steel and robust painted silver steel. The Multivend is also fully configurable and can be customised to suit your specific market requirements.
Specifications
 Secure electronic operation
 6 or 10 button option
 Configurable shelves – can be configured to vend nappies
 Vends leading brand named products
 Up to 9 product choices
 Easy price – coin and product change
Out of stock indicator
Accepts up to 12 different coins
Configurable for any currency and languages
Does not provide change – coin return if empty
Self-contained – no mains wiring
Long life battery power
1 year warranty
Can be customised with company logos
Antivandalism
Special design for Nappy multivend (ABS white)
Available in white ABS
Grey and white steel